WELCOME
Nous avons le plaisir de vous présenter notre nouveau site, soyez les bienvenue et n'hésitez pas à passer sur notre Livre d'Or.
Vous avez la possibilité d'écouter et visualiser des données au format multimédia, il vous est nécessaire d'avoir le pluggin flash.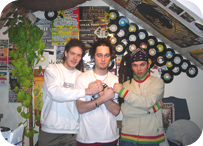 Dernière News
Titre :
Cedric Congo Myton in Dubplate session
Auteur :
pupachile
Date :
19/04/2009
Contenu :
greetings,




Cedric Myton, singer of "The Congos", will be in studio in orleans (france) for a Dubplate session on next 28th of April.
Voir toutes les news